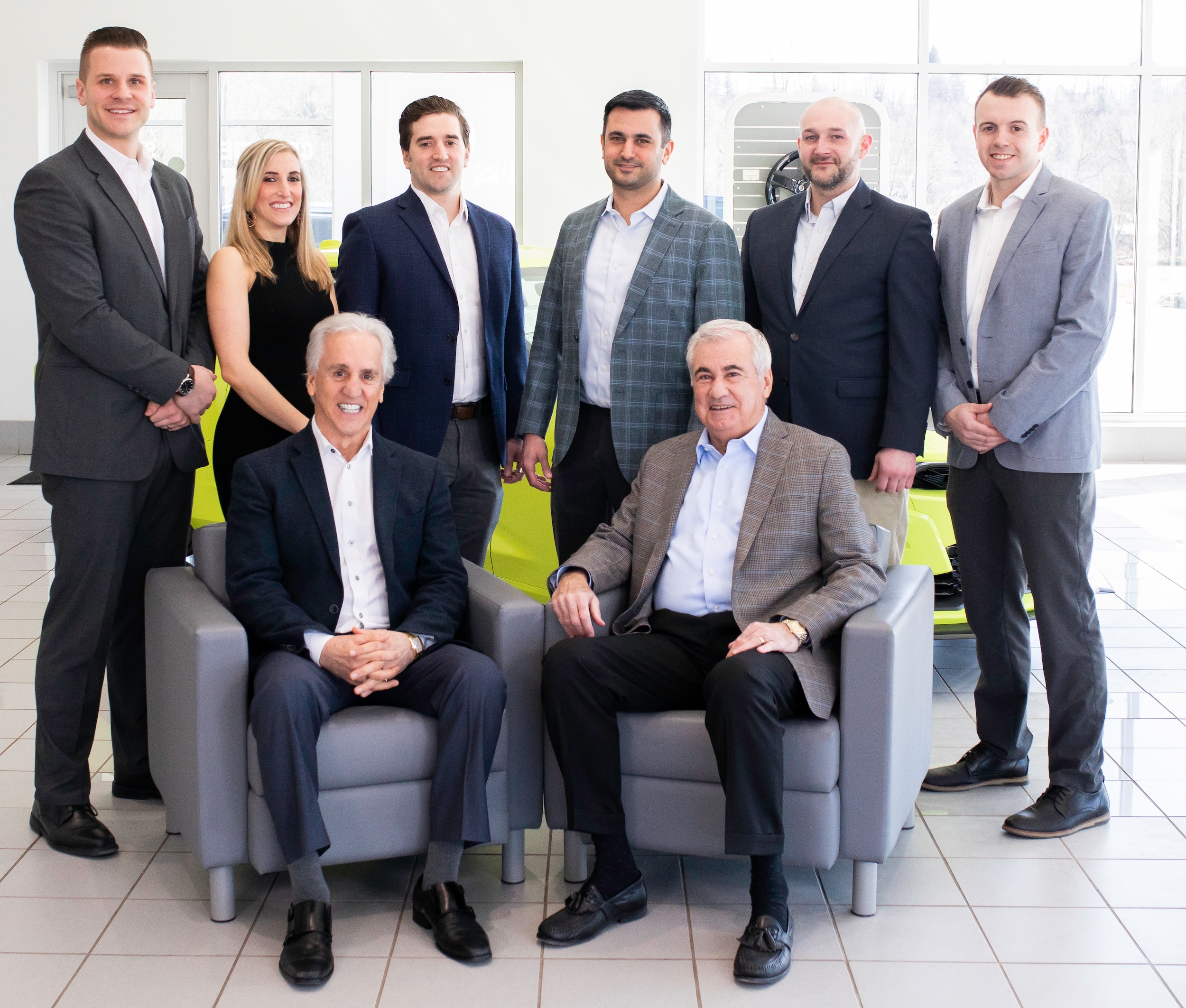 Top row from left to right: Brian Mathias, Sales Manager at Steet Toyota of Yorkville; Carly Steet Mathias, Digital Marketing Manager for the Steet Ponte Auto Group; Joe Steet Jr., Steve Ponte Jr., John Maher, Service Advisor at Steet Ponte Chevy; Chris Gardiner, General Manager at Steet Ponte Nissan
Bottom row from left to right: Joe Steet Sr., Steve Ponte Sr. 
FAMILY HISTORY 
We are a local family-owned and operated Auto Group located all around the Central New York area. We span throughout Oneida, Herkimer and Fulton Counties. The Steet Auto Group has been in business for more than 65 years, starting with United Auto Sales of Utica, now located at 4994 Commercial Drive in Yorkville, NY. Founded in 1945, United Auto was originally owned by two local brothers, Joseph G. and Thomas Steet and is now in its third generation of local owners and operators, by father and son, Joseph A. and Joseph T. Steet. Family values, dedication, and a strong drive are what made the Auto Group grow to what it is today. For more than 20 years, Joseph A. Steet looked across the street while he was working at United Auto and knew he would one day be the owner of the Toyota dealership located at 4991 Commercial Drive. In 1997, Joseph joined forces with Steven M. Ponte to purchase what is now called Steet Toyota of Yorkville, and that was the start of the Auto Group!
As a resident of Herkimer, NY, Steve saw the opportunity in a local Chevy dealership, and they purchased the now Steet-Ponte Chevy located at 3036 State Route 28. By 2003, they acquired Steet-Ponte Ford Lincoln and renovated the building located at 5074 Commercial Drive. In 2007, they were contacted by Toyota to open another dealership in the city of Johnstown, NY to help the local economy, drive sales, and provide jobs to many of those in the surrounding area. And with that, Steet Toyota of Johnstown Gloversville was born!
Finally, in 2011, Steet and Ponte acquired the Volkswagen and Mazda brands. In 2013, the new Steet-Ponte Volkswagen location was built on 5046 Commercial Drive in Yorkville, and Steet Toyota Scion of Yorkville, United Auto Sales, and Steet-Ponte Chevy were renovated into beautiful, state of the art facilities. Steet Ponte Mazda moved to its' own facility in late 2020, and Steet Ponte Nissan was purchased in late 2021.
Customer satisfaction is our number one priority, and our goal is to provide a streamlined and convenient way to make the sales process enjoyable. We not only take care of you during the sale, but we strive to provide you with continued care and service after the sale. Our websites are a convenient place to get the information you are looking for, and to search our extensive and affordable selection of new and pre-owned vehicles.
Stop by any of our state of the art facilities and see why our customers always say, "It's so easy to do business at the Steet-Ponte Auto Group!"